Who we are
"Like it or not, livestock farming is here to stay.

As a society, we have an urgent need to help farmers meet the challenges of modern-day agriculture. Everyone wants happy farmers, happy animals, and a healthy planet."
- Jacquelin Labrecque
Second-generation director at Ro-Main
Unlocking the sustainability of livestock farming with down-to-earth high technology
Building on its successes of the last decades revolutionizing different aspects of pig farming, Ro-Main is working on the augmentation of human capabilities with practical, yet sophisticated technologies. We aim at automating low-added value tasks, giving farmers tireless eyes in the farm, and providing unbiased and precise decision tools to support farmers in their quest for a safer, more profitable, animal-friendly, and ecological protein production.
Shaping the future of precision livestock farming since 1999
1979

Eggs and pig farmers before all

Ro-Main is before everything else a family business rooted in agriculture. Raised on a laying, crops, and maple farm, Robert and Germain Labrecque took over the family business and expanded it into swine production. Over time, two other brothers, Serge and Ghyslain, joined them as business partners.

1999

Contact-O-Max revolutionizes swine reproduction

It is still hard for us to realize the global impact that Contact-O-Max had on swine reproduction. This simple idea that we had to make our work more efficient in our own farm quickly showed the world a new way to manage reproduction. With this world's first remote-controlled boar cart for sow sexual stimulation and estrus detection, large-scale artificial insemination was now possible, thus allowing to control the quality of the reproduction process and improving farm productivity by up to 10%.

2004

Hercule's Arm has your back

The safety of our workers has always been very important for us. Hercules' Arm, another innovation designed in and for our own farms, saves the back of thousands of farm workers around the world each year. Being promoted or even made mandatory by authorities in some countries, Hercule's Arm has become the industry gold standard for removing dead animals safely. We all know how much losing an animal emotionally hurts, it does not have to be a physical hazard as well.

2009

PigWatch is the world's first artificial intelligence system for livestock farming

You read it right! We launched the world's first artificial intelligence system for livestock farming before we even knew what artificial intelligence was. What we knew though is that computers and real-time data were about to change agriculture forever, allowing farmers to make better and faster decisions based on facts. PigWatch, by monitoring sow behaviour with distance sensors and analyzing it on a computer, was able to predict a proper moment for insemination. How was that for 2009?

2011

No Backdraft saves your pigs and birds

Simple solutions are usually the hardest to design, and we had to learn to be good at it. No Backdraft may look just like any ventilation damper you have seen before, but its unique and carefully engineered dual-action mechanism is what makes it so simple to adjust to any type of fan and avoid any compromise on animal health. Who says we must make compromises? Just ask the owners of our tens of thousands No Backdraft units who decided not to compromise airtightness nor ventilation efficiency for the health and well-being of their animals. We believe in fully working solutions – without compromises – and we make them happen. Period.

2016

Reinvention

A few years after the second generation of our family officially joined the company with new skills and ideas, we reinvented ourselves, literally. With the same mission and vision for livestock farming, we acknowledged that the most disruptive innovations of the next couple decades would take the form of software and robots. Without hesitation and driven by our fierce passion for the industry, we started a transition from a manufacturer of specialized farming equipment to a high-tech company. We became a startup within a mature company. Not an easy transition, you will say. But we did it, and succeeded.

2018

First computer vision-powered products in the worldwide swine industry

After three years building a specialized computer vision and data science team to complement our animal science and engineering expertise, we launched smaRt Counting and smaRt Breeding, the world's first commercial computer vision-powered technologies for the swine industry. We became the first Agtech globally to prove at the commercial level that computer vision and AI will unlock sustainability of livestock farming.

Future

Are you ready to lead the herd?

How not to be excited about the future? Imagine having the certainty that every single animal in your farm is healthy, happy, and growing well, even in a context of labour scarcity. Imagine having time to think about the future rather than being constantly running after time. Imagine having all the necessary information at your fingertip to make optimal decisions, all the time. That is our promise for the future. Are you ready to lead the herd?
Why choose Ro-Main?
Outstanding support

At Ro-Main, we are conscious that our solutions revolutionize your work methods so we make it our responsibility to help you optimize the productivity of your operations.

Multidisciplinary approach

Deciding to go with Ro-Main's solutions is choosing the expertise of a multidisciplinary team composed of Veterinarians, Agronomists, Data Scientists, Engineers, and Computer Vision Experts. We gladly share this know-how with our clients to help them maximize their results and profits.

Solutions developed by producers, for producers.

As pig producers for almost 40 years, we know your needs and work tirelessly to develop responsible technologies to improve the hog industry. With the dynamism and innovation spirit of a start-up and our 4-decade expertise in pig production, our solutions are adapted to the reality of your farm.

The stability of a 23-year old company

We are a well-established, family-run company whose story began with two brothers in search of a solution to improve the productivity of their own pig farms. They discovered the magic of pheromones and designed Contact-O-Max in 1999, changing the entire pig industry in the process. 23 years later, we are two generations working side by side, helping pig producers better their operations.

We lead the herd

At Ro-Main, we have always been forward-thinking and one step ahead with our solutions. Right from the start, in 1999, the Contact-O-Max completely revolutionized the pig industry by allowing farmers to use artificial insemination everywhere in their farms. In 2009, we were the first to introduce intelligent systems and computer vision to the pig industry.
The team behind our success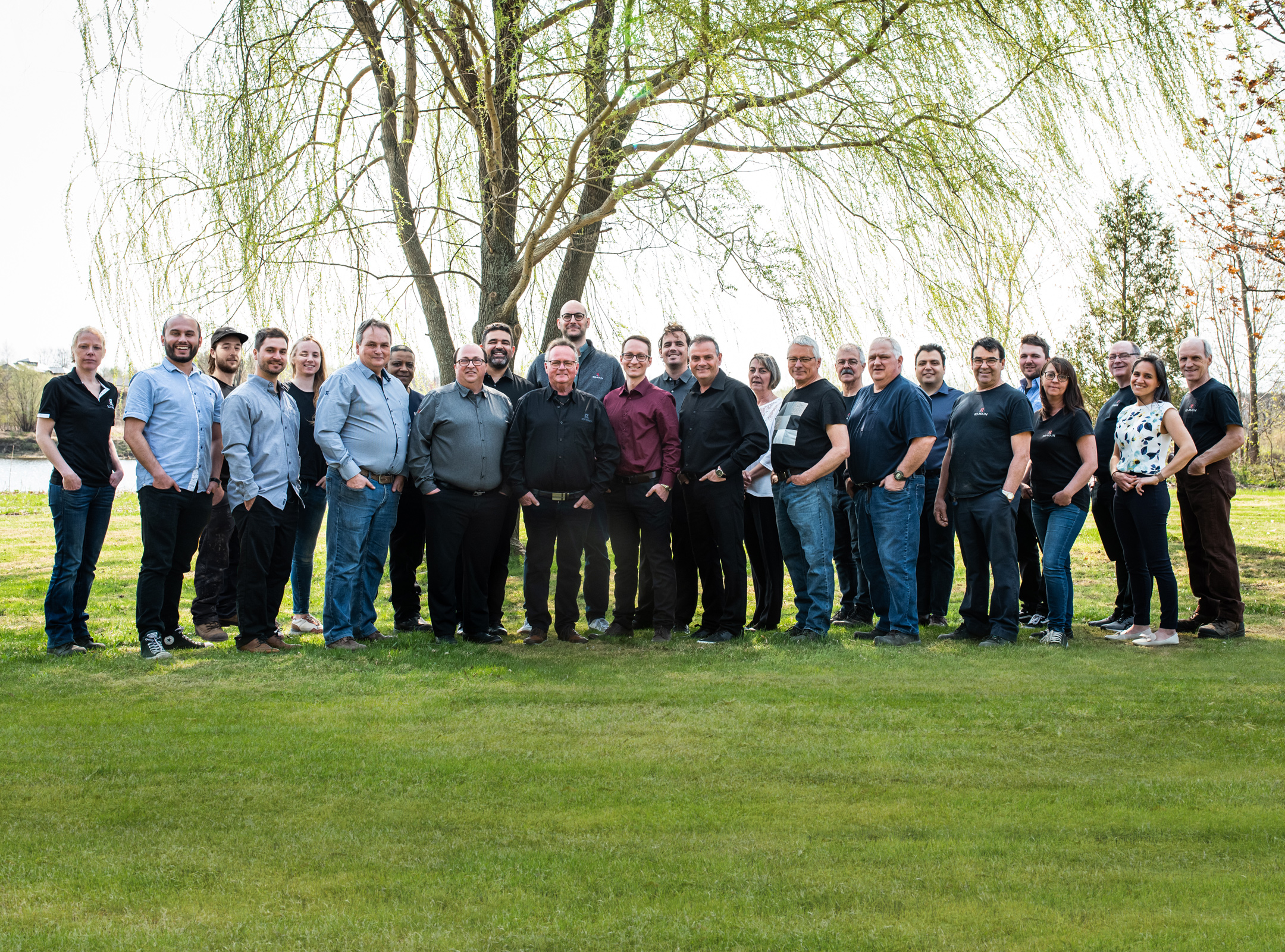 What really differentiates us is the passionate and diverse humans working together to make the next agricultural revolution possible.
Join our team now!